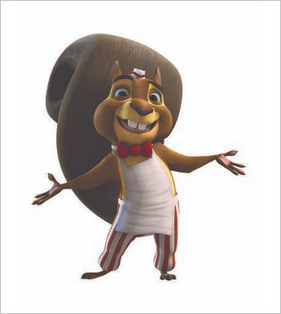 Eddy is a squirrel who only appears in The Wild Adventures of Blinky Bill.
When raiding a peanut factor in New Jersey, he inadvertently got packed, wrapped and shipped 'Down Under'. Next thing Eddy knew, he was on the loose in a strange new land. Eddy has been embraced by the locals of Greenpatch as a 'colourful character' and he now runs a New York Diner-style milk bar called 'Exotic Eddy's Shake Shack'.
The Wild Adventures of Blinky Bill
Edit
He makes his first appearance in this adaptation.
Appearances
Edit
He's the first squirrel to appear in the series.
Real squirrels aren't actually native to Australia.
Click here to view the gallery.